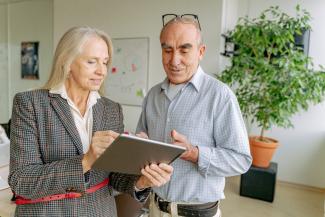 Why Financial Professionals Are Still Important
With the current popularity of robo-advisors, some wonder what the difference is between an algorithm and a financial professional.
Robo-advisors have been able to do something that traditional financial professionals have not: allow those with limited resources to begin creating a portfolio of investments.
Several experienced financial professionals work with high net worth individuals that have hundreds of thousands in their portfolios. On the other hand, some robo-advisors are accessible with low or no minimum balance requirements.
Getting Started
Robo-advisors have been able to offer an alternative to traditional financial professionals to those with limited resources. They can provide automated advice and portfolio management based on your criteria with low costs and low account minimums.
But this is why many investors choose to work with financial professionals. They want the personal touch a financial professional can provide. Working with someone can be especially helpful if you aren't sure what your preferences or goals are yet. Several financial professionals offer virtual meetings as well as in-person ones, so you don't need to travel for financial guidance.
A Personal Relationship
While some people prefer to do business online without human interaction, there is no way to adequately replace a person with a computer. And while it may seem easy to have a computer choose investments based on a short questionnaire, the computer knows nothing about you. Not your likes, dislikes, career path, relationship, family, or your short and long-term goals. Your financial professional knows all of those things and can make personalized recommendations based on your current life stage and plans for the future. Plus it's nice to be able to pick up the phone or send an email to someone who can explain market fluctuations, guide you through major financial choices, or just offer some reassurance after a particularly volatile trading day.
Privacy Matters
If you like to keep your personal information private, you may have some hesitations about sharing your personal and financial data online. If you do prefer to do everything online, research how your data is being stored, protected, and used before using any provider.
A Hands-On Approach
Because robo-advisors tend to be a one-size-fits-all solution, it can be simpler for investors that want to "set and forget". However, if you have some very definite ideas on where you want your money to go, you'll be much better off using a financial professional, since they will work with you to help place your funds.
Conclusion
While it can be a helpful resource for those entering the market for the first time, robo-advisors cannot provide the personalized guidance or years of experience that a financial professional may have.
Robo-advisors are not going away, but neither are financial professionals. Both will continue to provide services to two very different groups of people, leaving it up to you to decide which option you're more comfortable using.
Contact us if you'd like to learn more about how a financial professional can help you with your financial goals.
 
---
All investing involves risk including loss of principal. No strategy assures success or protects against loss.
This content is developed from sources believed to be providing accurate information. The information provided is not written or intended as tax or legal advice and may not be relied on for purposes of avoiding any Federal tax penalties. Individuals are encouraged to seek advice from their own tax or legal counsel. Individuals involved in the estate planning process should work with an estate planning team, including their own personal legal or tax counsel. Neither the information presented nor any opinion expressed constitutes a representation by us of a specific investment or the purchase or sale of any securities. Asset allocation and diversification do not ensure a profit or protect against loss in declining markets. This material was developed and produced by Advisor Websites to provide information on a topic that may be of interest. Copyright 2023 Advisor Websites.