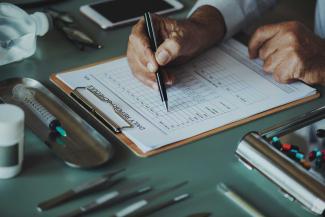 Student Debt - 4 Tips to Get Your Finances to a Passing Grade
So you've got your degree, now what?
These days, only on television is landing your dream job after graduation a thing that could actually happen. The reality is, in a recent survey of 503 - recent grads - entry-level job seekers by national career matchmaking firm GradStaf, "nearly 70 percent of respondents were either unemployed or working in a full-time non-professional job to make ends meet." Pair that with the idea that 'the average cost of one year at a public university for an in-state student is $20,090. That increases to $34,220 if you hail from out of state," student debt is something far too many millennials have to face.
Debt is an epidemic in America with over $1.2 trillion of student debt alone. When you're over-worked and underpaid it can seem nearly impossible to plan for your future. But there is some actionable steps you can take to tackle student loan debt head on! The most important thing you can do is to keep on top of your payments and try not to default. "The Department of Education estimates that 3 million borrowers are at least 30 days past due on one or more Federal Direct Loans. After 270 days of delinquency, you go into default. This can lead to garnished wages, ruined credit and an inability to qualify for future aid or deferments. Almost 8 million student loan borrowers are in default, owing more than $110 billion, according to the CFPB."
4 Tips to Get Your Finances to a Passing Grade:
1. Educate Yourself
It may seem like a simple suggestion, but the internet is full of credible information on exactly your needs. Empower yourself, and prepare to take on a bigger challenge than graduation.
2. Just start
Like we said before, it's important to not 'drag your feet' when tackling debt.  Make larger payments to cut the principal more quickly.
3. Create a plan
Work with a financial professional to create 3 year and a 5 year plan with regards to paying off your student debt.
4. Budget realistically
It's easy to say that once you've graduated college, you're going to land that dream job, and live on a shoestring budget. But by having a realistic budget of your needs and wants allows you to still live - like a reasonable human - while still chipping away at your loans.
Resources
1. https://www.cnbc.com/2016/12/15/why-college-grads-cant-find-jobs-commentary.html
2. https://www.cnbc.com/2017/07/13/heres-how-much-it-costs-to-go-to-college-in-the-us-compared-to-other-countries.html
3. https://www.marketwatch.com/story/americas-growing-student-loan-debt-crisis-2016-01-15
4. http://www.bankrate.com/finance/student-loans/student-loan-dos-and-donts-for-millennials-1.aspx#slide=
5. http://www.bankrate.com/finance/college-finance/repay-college-loans-fast-1.aspx#slide=2
*This content is developed from sources believed to be providing accurate information. The information provided is not written or intended as tax or legal advice and may not be relied on for purposes of avoiding any Federal tax penalties. Individuals are encouraged to seek advice from their own tax or legal counsel. Individuals involved in the estate planning process should work with an estate planning team, including their own personal legal or tax counsel. Neither the information presented nor any opinion expressed constitutes a representation by us of a specific investment or the purchase or sale of any securities. Asset allocation and diversification do not ensure a profit or protect against loss in declining markets. This material was developed and produced by Advisor Websites to provide information on a topic that may be of interest. Copyright 2021 Advisor Websites.