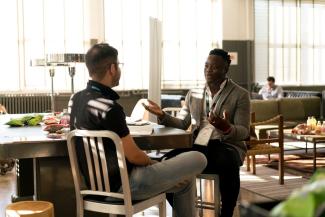 How Do I Know if a Financial Professional is the Right Fit?
How do you know if your financial professional is the right person to manage your life savings? It's an important decision and choosing the person (or team) that will help you pursue your financial goals can be tough. It pays to shop around to find the right professional for you and your family. Here are some tips to see if a financial professional is a good fit.
What's Important?
Before researching financial professionals, take some time to determine your needs and goals. Are you looking to earn a little extra income? Are you considering using insurance as part of your retirement plan? How much do you have in your portfolio? Are you self-employed? Consider the complexity of your financial needs, and keep these needs in mind when searching for financial professionals.
Fees
There are several ways that financial professionals earn their keep. Some earn a commission based on the products they sell, some work on a flat-fee basis, and others are percentage-based. It can get confusing, especially since some individual investments may have their own fees or transaction costs. Remember that a financial professional deserves to earn a living so long as their duty of care and guidance is worth it to you as their client. Have an honest conversation about fees with the financial professionals you're considering, and if you don't get a clear answer, it may be time to keep looking.
Questions to Ask
You'll want to set up initial meetings with the financial professionals you're thinking of working with. These meetings function similar to an interview, so you can determine if you're a good fit. If you're not sure what to ask, here are a few suggestions to start the conversation:
What's their approach to investing? Do they take a holistic approach? What does "holistic" even mean? If they use terms like "personalized", "goals-focused", or "collaborate", try to drill down and ask if they can explain these terms, and how they benefit you, further.
 
How will your portfolio be managed? How do they choose investment products?
 
How will you communicate? Do they have a set number of meetings with you each year, or are you able to book a meeting with them when you need it? Do meetings have to be in-person, or can you use virtual meetings? If you're working with a team, is there a main contact you can direct questions to?
 
Who do they work with? Some financial professionals work with a variety of people and professions, whereas others specialize and tailor their services to fit a smaller niche. Don't be afraid to ask questions, especially if you're looking for specialized guidance.
Ultimately, one of the most important aspects of finding the right financial professional is to find someone you feel comfortable with. Someone who has a similar philosophy to you, and someone you feel you can contact if you have questions or concerns.
If you'd like to learn more about working with a financial professional, contact us. We're here to help.
---
This content is developed from sources believed to be providing accurate information. The information provided is not written or intended as tax or legal advice and may not be relied on for purposes of avoiding any Federal tax penalties. Individuals are encouraged to seek advice from their own tax or legal counsel. Individuals involved in the estate planning process should work with an estate planning team, including their own personal legal or tax counsel. Neither the information presented nor any opinion expressed constitutes a representation by us of a specific investment or the purchase or sale of any securities. Asset allocation and diversification do not ensure a profit or protect against loss in declining markets. This material was developed and produced by Advisor Websites to provide information on a topic that may be of interest. Copyright 2023 Advisor Websites.